No sooner had the new Mercedes E been born than it was already released in an armored form.

«Armored car» of the new generation is able to protect its passengers from shots from 44-caliber revolvers and the explosion of a grenade under the bottom.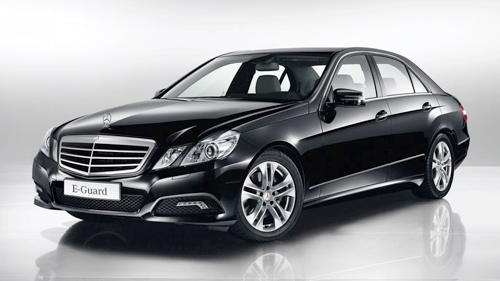 Externally, the car looks normal. But, according to an official statement from Mercedes, the car has received protection according to the European VR4 standard. The body structure uses special steel and aramid fibers. Instead of ordinary glasses, polycarbonate is installed. An alarm system attracts the attention of others in the event of an attack, and a communication system allows passengers to communicate with people outside. If the tires of a car are damaged, they can drive more than 50 km at a speed of 80 km / h.
The E-Class Guard will be equipped with three engines: 5.5 and 3.5 liter petrol engines, as well as a 231-horsepower diesel engine. The increased weight required modernization of the air suspension and brakes, all electronic safety systems were reconfigured.
In Germany, the novelty can be ordered from April this year. For «armor» they require 45,000 euros over the price of a regular E-Class.